New Items Galore in the Mixcraft Store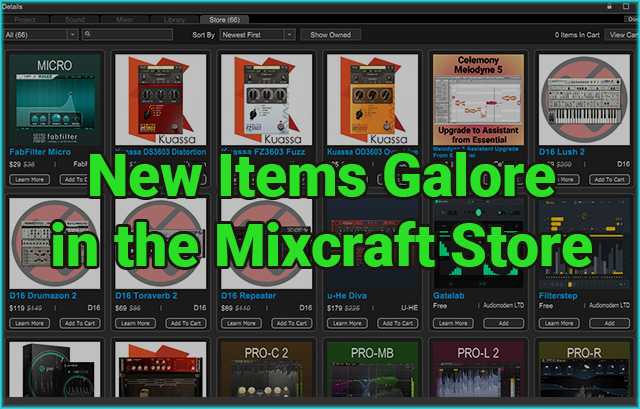 Third-party plugins are on fire in the Mixcraft Store, with well over 60 instruments, effects, and utility plugins in every price range -- even free! Check out the latest highly-rated tools from leading desktop music developers like Kuassa, Melodyne, D16, FabFilter, u-He, and more. 

In Mixcraft 10 Recording Studio and Pro Studio, browse the integrated Store tab at the bottom of the interface, where you can sort by Category, Price, Manufacturer, Date Added, and Name (it also shows what you already own). The integrated Mixcraft Store (exclusive to Mixcraft 10!) is the easiest way to shop for, install, and even upgrade the industry's leading desktop music tools like these.
In Mixcraft 9 or earlier, visit the Third-Party Plugins for Mixcraft page on the website to see what's available, get more information on these products, and make purchases through the Acoustica site.
Stay tuned! Acoustica will continue adding more value-added plugins, loops, and tools like these regularly to stay "in tune with you."