MIXCRAFT 10 PRO STUDIO INCLUDED EFFECTS
Mixcraft Pro Studio 10 adds the following plug-ins:
CHERRY AUDIO GALACTIC REVERB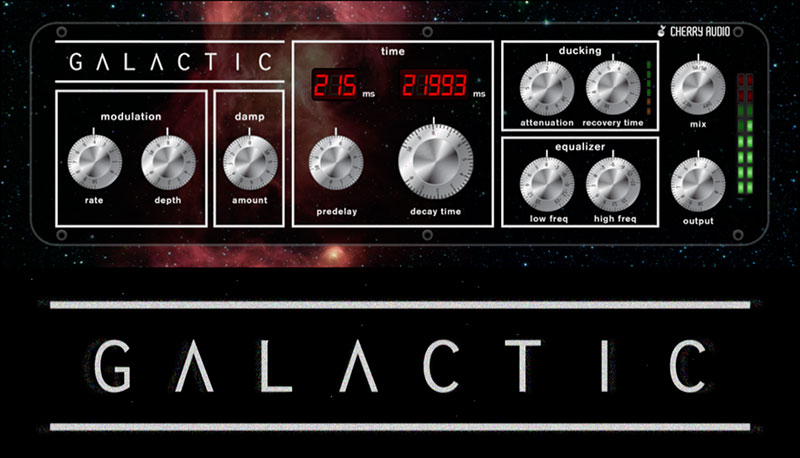 Galactic is an algorithmic reverb that captures the "larger-than-life" sound of coveted classic hardware vintage digital reverbs. With a maximum decay time of 35 seconds, it's raison d'etre is to create huge, beautiful aural spaces, making it a natural for ambient styles and large pads.
It'd designed to be fast and simple with very musical results, can be used as an insert or bus effect, and it's fully compatible with mono or stereo input sources.
CHERRY AUDIO STARDUST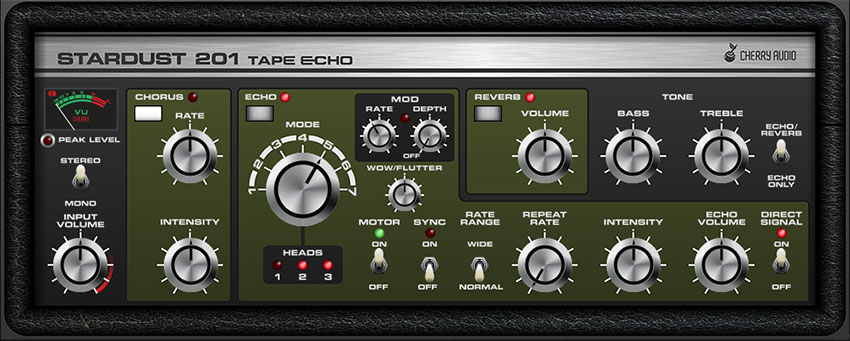 VOCALZAP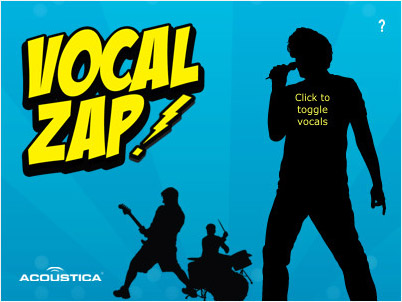 VocalZap removes vocals and other center-panned content from stereo recordings. It's ideal for creating karaoke tracks. Rumor has it that an early version was used during production of the 1982 Scott Baio cinematic masterpiece, "Zapped." (talk about your, "movies that didn't age well")
PULTRONIC TUBE EQ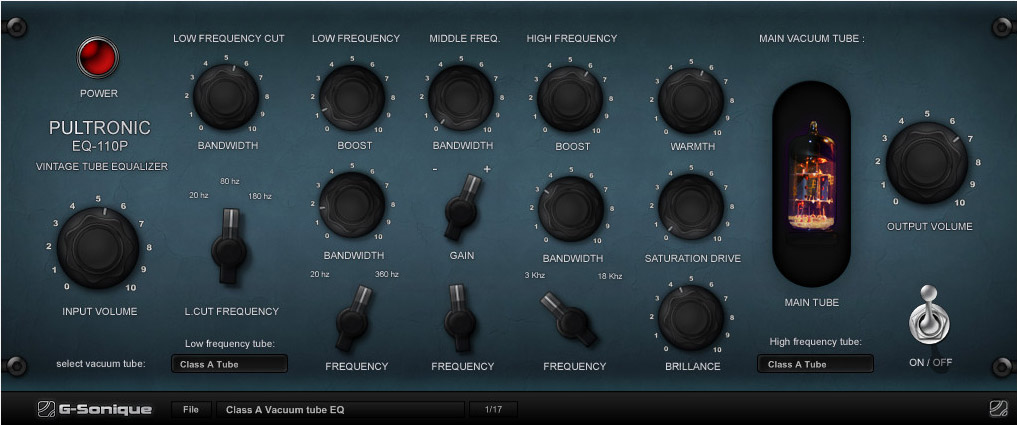 G-Sonique's Pultronic Tube EQ is a detailed recreation of a classic vintage vacuum-tube based equalizer found in top studios throughout the world. Warm up tracks or add a completely new character with the Pultronic Tube EQ's array of tube models and presets.
SHRED AMP SIMULATOR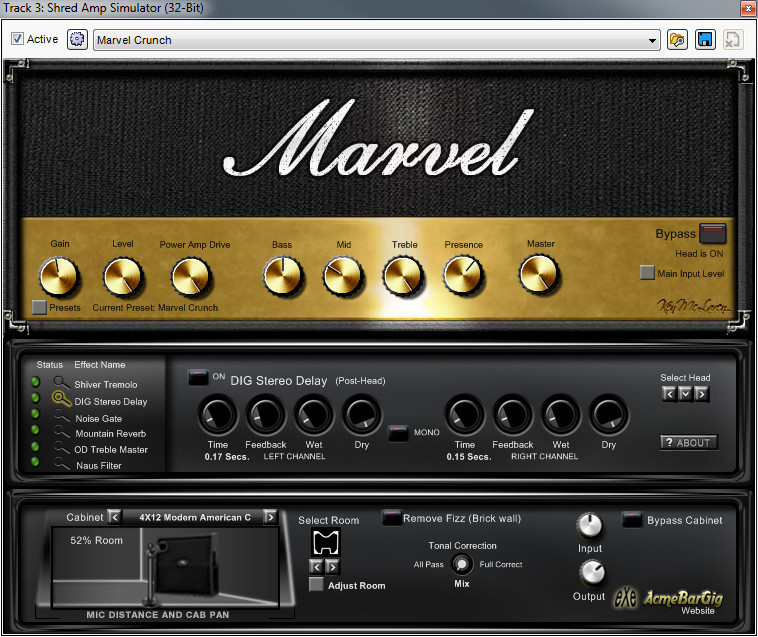 Shred Amp Simulator by AcmeBarGig is a complete guitar amp and cabinet suite including five classic amp heads, 17 cabinet models, and six powerful effects. Shred faithfully models classic British and American tube heads, and includes powerful room modeling technology.
BROADCAST MULTIBAND COMPRESSOR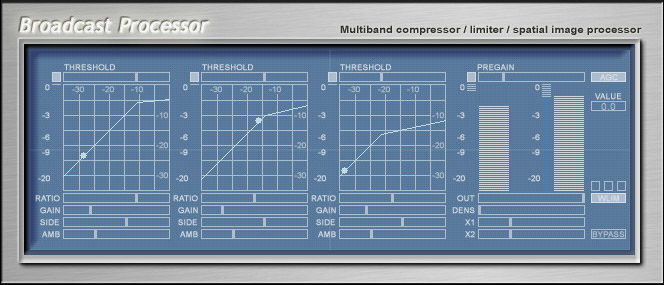 Broadcast Processor is a multiband compressor/limiter designed to impart maximum overall volume to a mix by breaking up audio into separate frequency bands, and then compressing these bands individually to make them louder or quieter. It can also lower louder audio parts with downward compression for a more dynamically balanced mix. This tool is essential for creating loud, dynamically balanced, professional mixes for dance, electronica, pop, and other genres where "loud" mixes are needed.
GSNAP PITCH CORRECTION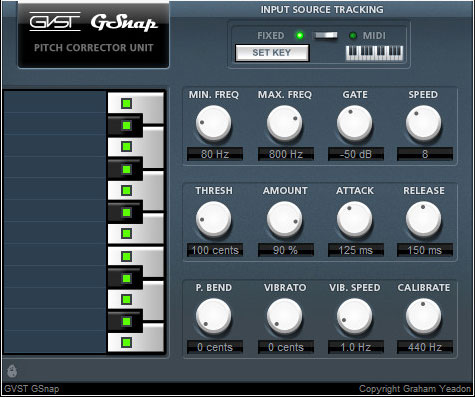 GSnap is a state-of-the-art pitch correction plug-in that's ideal for subtly (or not-so- subtly) tuning vocal performances in real-time (i.e. as they play back in a project). Note choices may be limited to preset or user-specified scales, and the speed and amount of pitch correction can be adjusted.
EU PROMIXEQ-10A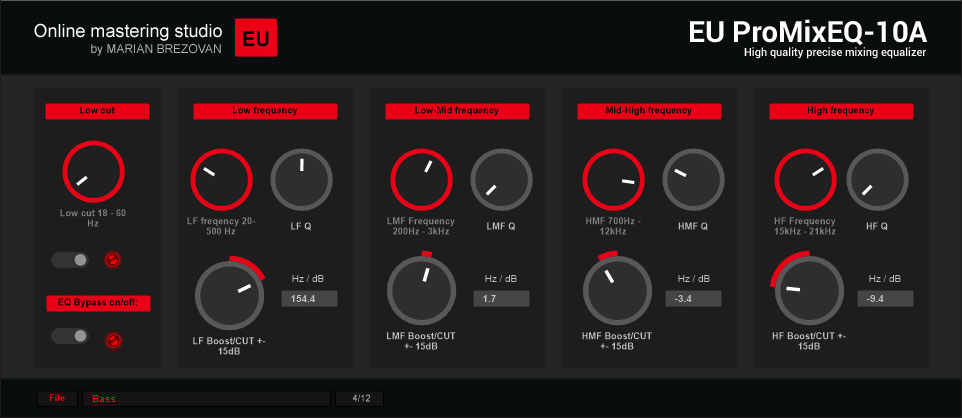 EI PromixEQ-10A is a high quality five-band parametric EQ, optimized for final mastering. Its straightforward interface and superb fidelity make it a natural for all mastering applications.
DTC-1 DISCRETE ULTRA TRANSPARENT VCA BUS & TRACK COMPRESSOR

G-Sonique DTC-1 is modeled after a legendary analog VCA-based analog bus compressors known for its transparency. It allows significant gain reduction (10dB or more) without undesirable pumping, distortion, or compression artifacts. DTC-1 is perfect for tracking/mixing and excels in mastering applications.
ORB7000 OCTAVE REVERB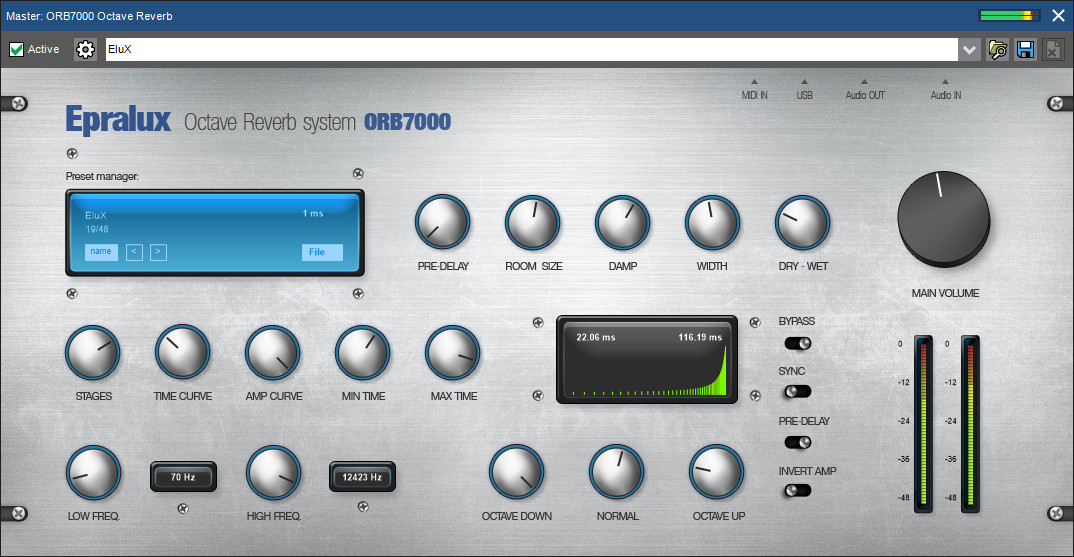 ORB7000 is a special, artistic and creative octave/pitch-shifting reverb system for creating special sound and space effects, new sound colors and unique experimental sounds. Using "particle-based pitch shifting," ORB7000 splits the signal into three signal paths: octave down, normal, and octave up, creating unique sounds including classic "Eno shimmer" effects.
ACOUSTICA 31 BAND EQ

Acoustica 31 Band EQ is a 1/3-octave graphic equalizer offering precise control over frequency content. Slider range is adjustable from 6dB to 24dB of boost and cut, and many presets are included to get you started.
ACOUSTICA PRO STUDIO REVERB

Acoustica Pro Studio Reverb takes the lush, crystal-clear reverb used in our award- winning Pianissimo grand piano virtual instrument and expands it into a great- sounding, flexible standalone effect.
CELEMONY MELODYNE ESSENTIAL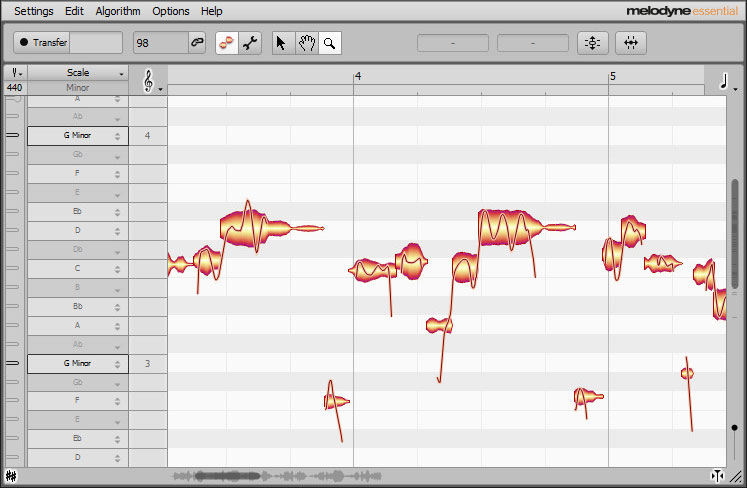 Melodyne is a vocal and audio tuning powerhouse that lets you move and edit notes on a grid similar to the one used Mixcraft's Piano Editor. It excels at fast and natural- sounding vocal pitch correction. Melodyne is integrated into Mixcraft 10's Sound edit window, but we also include the standard plug-in for legacy projects. (Check out Appendix 1: Using Melodyne For Basic Vocal Tuning for more info on Mixcraft's integrated Melodyne functionality.)
DUBMASTER LIQUID DELAY
Dubmaster Liquid Delay combines tempo-synced rhythmic liquid delay with powerful LFO-driven filtering and phase effects to add atmosphere and a unique sound to tracks.
FAT+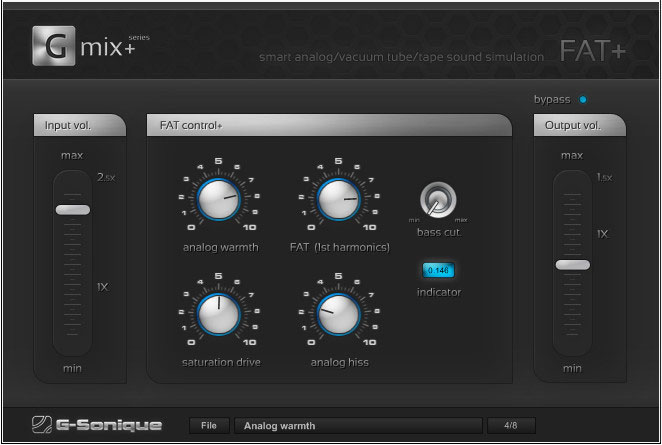 FAT+ mixes all of the essential ingredients for truly huge sounds into one powerful plug-in, combining analog warmth, vacuum-tube distortion, and tape saturation into a single effect that'll make your tracks sound enormous!
FEROX TAPE EMULATOR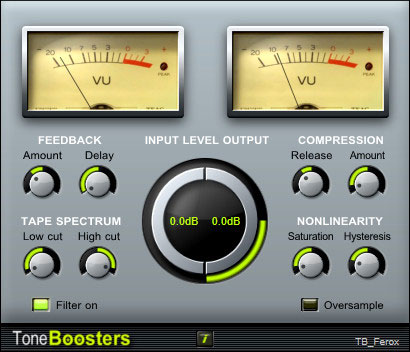 There's something about the sound of tape, and Ferox captures that intangible "something." The unique combination of authentic tape hiss, saturation, and compression brings personality and classic feel to tracks.
FSQ1964 TRANSIENT VITALISER

This powerful mastering tools adds sweet high frequencies, analog colors, crystal and transparent transients, and boldness to any mix.
GSXL4070 VINTAGE PARAMETRIC EQ

Four bands of parametric equalization plus a high pass filter emphasize the sizzle and bass in tracks, cut out noise and mud from the mix, and dial in the perfect tone. Inspired by the EQ section of one the world's most coveted studio mixing consoles.
IZOTOPE MASTERING ESSENTIALS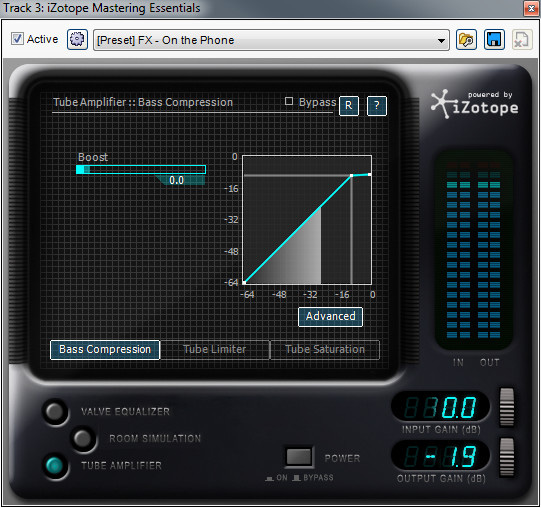 Mastering Essentials delivers Izotope's world-class mastering tools to Mixcraft with a gorgeous-sounding parametric EQ, spectrum analyzer, a phenomenal room simulation, vacuum-tube compression, limiting, and saturation.
MID-SIDE ENVELOPE FOLLOWER+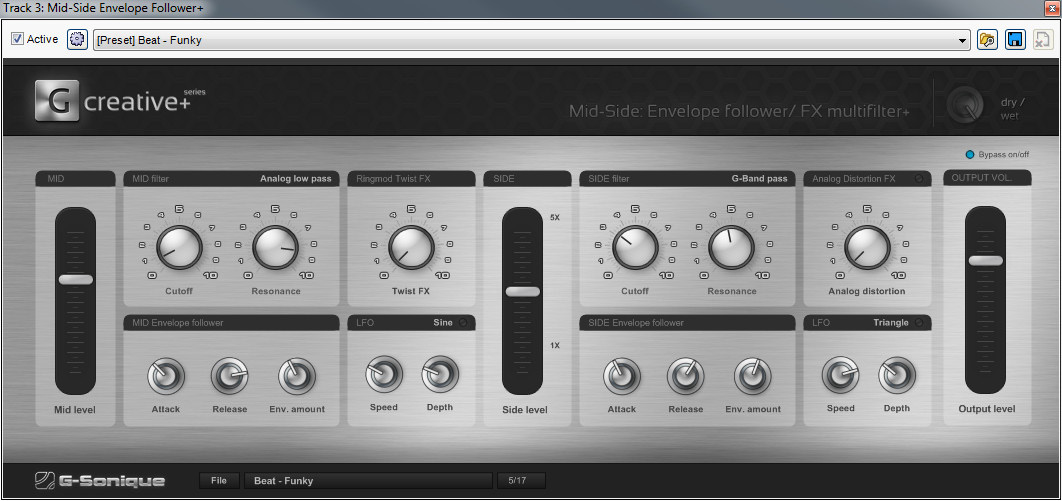 An envelope follower using the dynamics and amplitude of the incoming audio to modulate the cutoff frequency of a filter… the result is a funky, liquid filtering effect that dynamically responds to music content. The signal is split into mono (Mid) and stereo (Side) signals. Each part can be boosted or attenuated, enabling the creation of panoramic 3D effects.
MID-SIDE HARMONIC VITALISER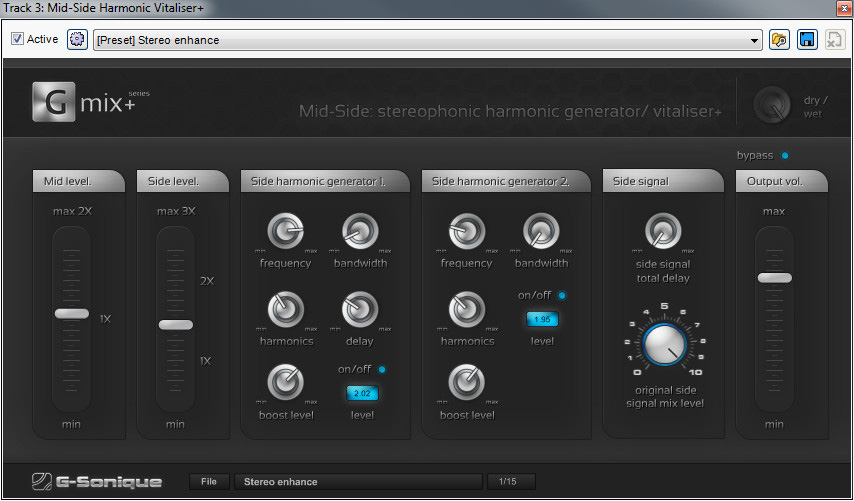 Mid-Side Harmonic Vitaliser+ is a stereo enhancer featuring a new technology for vitalizing, coloring, controlling, adjusting, and widening stereo audio content (the Side part of a signal), as well as adding space, width, and depth to mixes.
MID-SIDE STEREOPHASE FILTER+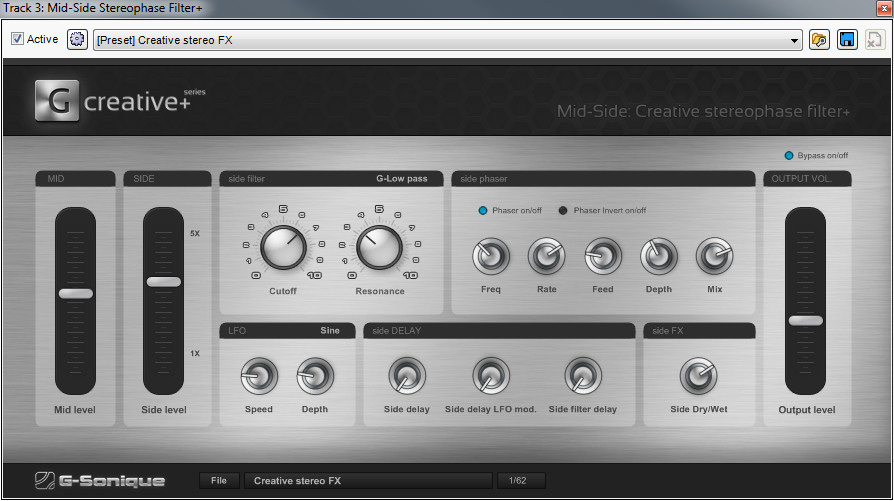 Offers new, creative methods of modulating stereo sound by creating special 3D modulation effects with phasing and filtering, and creates the illusion of effected sound flying around your head, while the center audio content (mid) remains untouched.
TB DITHER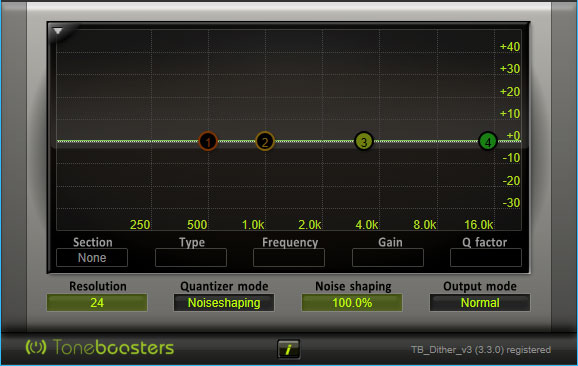 TB Dither modifies the bit depth of audio signals, by applying dithering, quantization, and noise shaping, and is an essential tool for maximizing the audio quality of 16-bit master audio files.
TB GATE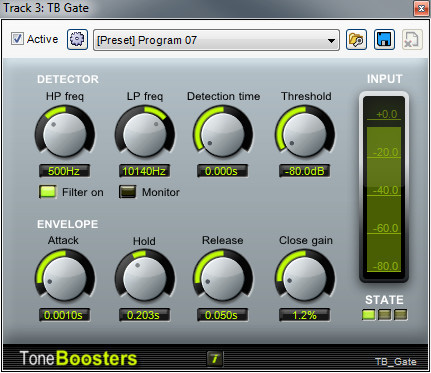 TB Gate is a very functional and simple to use gate. With its attack, hold and release parameters it can accommodate almost any gating requirements.
TB FIX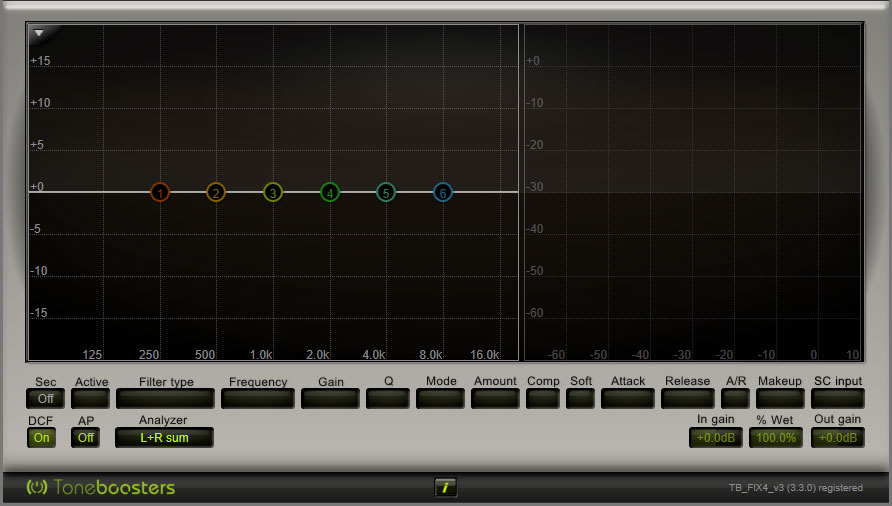 TB FlX ("Flex") combines equalization and dynamics processing in one processor. It features six filter sections with more than 30 filter types including classic analog peaking and shelving filters and resonating low- and high-pass filters, plus powerful frequency-dependent compression for taming difficult material.
TB TIMEMACHINE BIT CRUSHER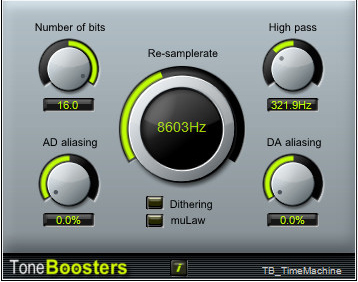 Recreate the sound of 8-bit video games, 12-bit samplers, or trash audio by transforming it into 2-bit noise! TimeMachine simulates the effect of A/D and D/A aliasing, re-sampling, and bit reduction (both linear and mu-Law quantization).
TWISTHEAD VS-206 PREAMP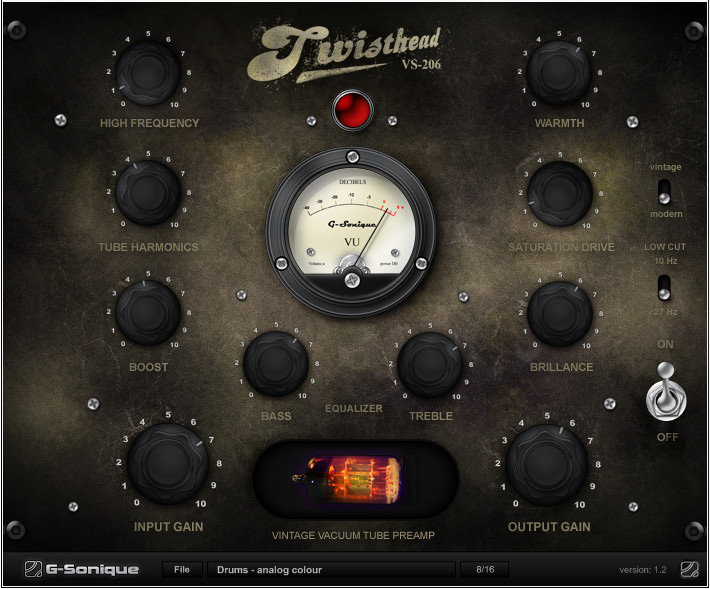 Adds subtle analog warmth or fierce overdriven tube grit to tracks. This vintage tube preamp adds 1960's charm and character to vocals, guitar, drums, and more.
XBASS 4000L BASS ENHANCER

XBass 4000L adds the warm, fat bass tone found in vintage tube circuits to your projects. XBass 4000L combines two unique algorithms to enhance the bass spectrum of tracks, adding emphasis to the audible bass content, enriching the bass and sub-bass spectrum, and boosting higher harmonic frequencies.
DUBSHOX MULTI-BAND DISTORTION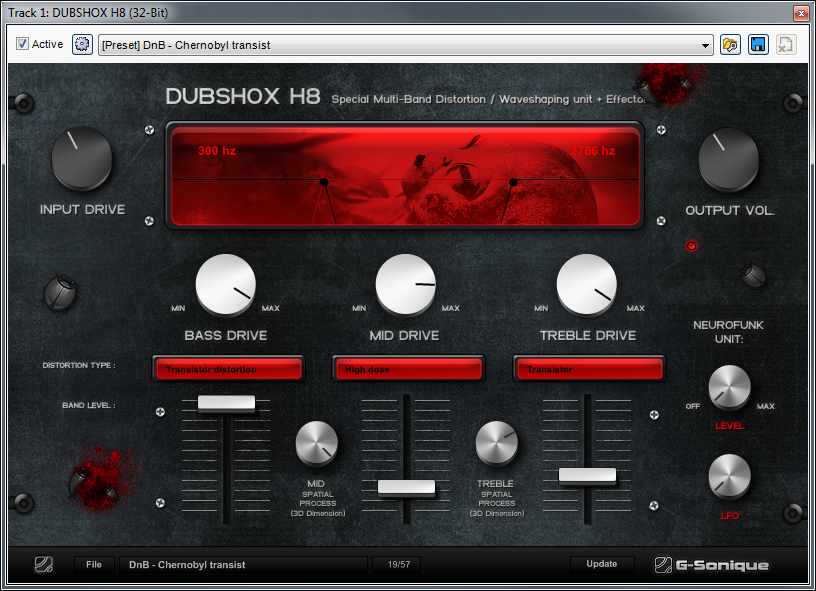 DUBSHOX Multi-Band Distortion is a multi-band distortion and waveshaping unit with over 40 types of distortion and shapers, from analog, transistor/diode and tube distortions, to crazy digital waveshapers. Every band has a knob for drive and output level for adding heavy distortion without excessive volume boost. DUBSHOX Multi- Band Distortion is ideally suited to aggressive modern dance styles including Dubstep, Drum and Bass, and EDM.
POD4500 PARTICLE DELAY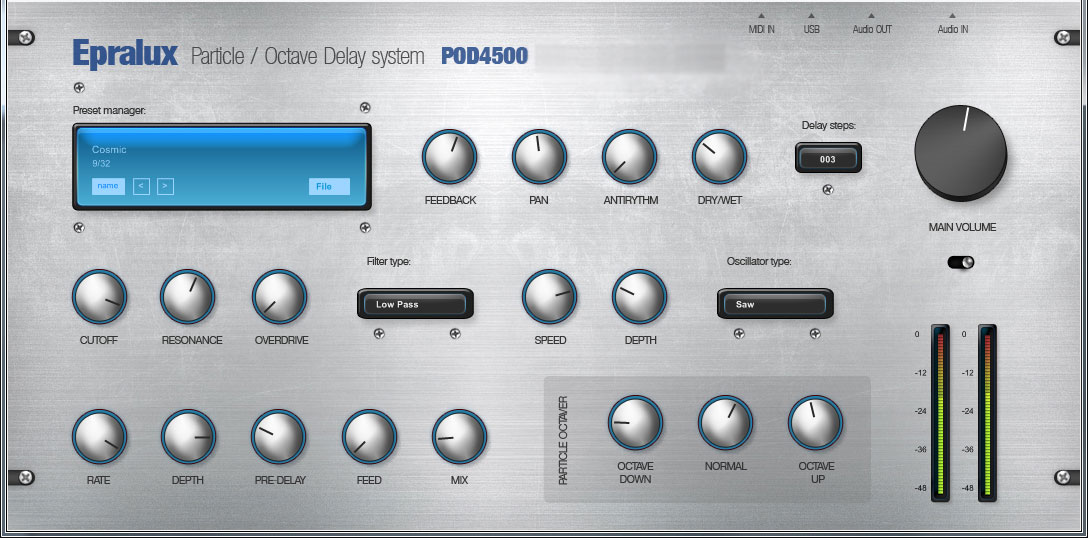 The POD4500 Particle Delay expands upon standard beat-synced delays with wildly unique "particles" that can be delayed, tuned up and down by octaves, filtered, and modulated. A fantastic addition to any type of music, POD4500 Particle Delay especially shines in experimental and dance music styles.
PSEQ-1 VACUUM TUBE PASSIVE EQ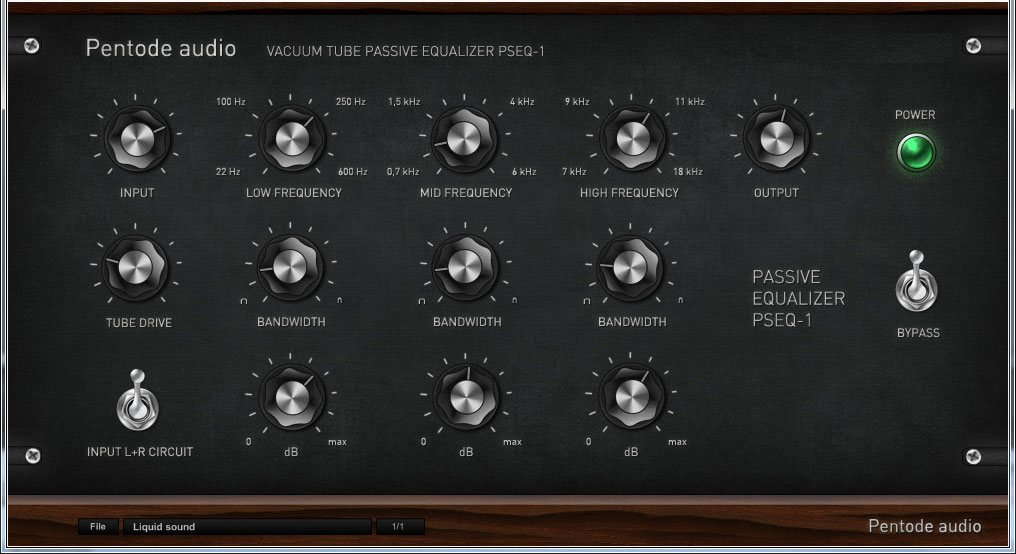 The PSEQ-1 Vacuum Tube Passive EQ faithfully replicates the sweet and warm "undoctored" tonality of passive EQ circuits. Even with large boosts at narrow-Q settings, the PSEQ-1 Vacuum Tube Passive EQ avoids the harshness that often plagues conventional active EQ topologies. The perfect EQ for individual channels or two- channel final mix busses.
TREBLECREAM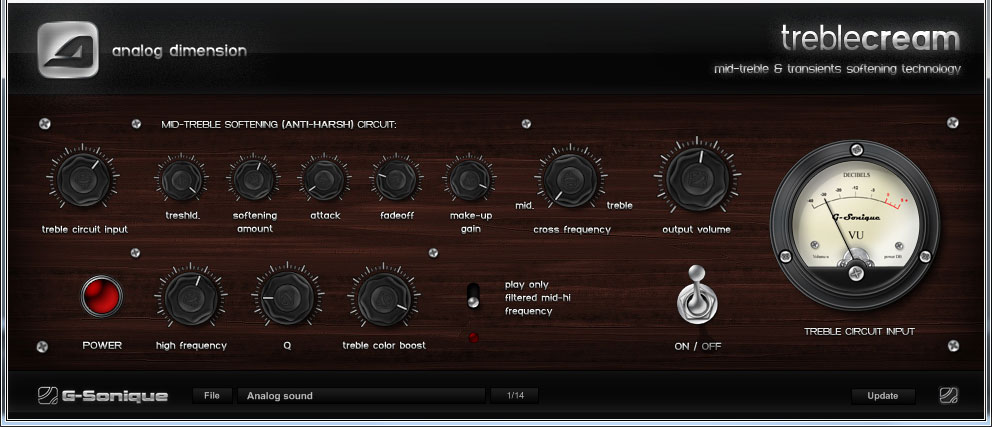 TrebleCream is a unique new master bus plug-in intended to minimize the effect of screaming or distorted mid-treble frequencies and transients resulting in more pleasing final mixes.
TRW-1 VACUUM TUBE TRIODE WARMER

The TRW-1 Vacuum Tube Triode Warmer is a plug-in with an inner structure similar to real blocks of vacuum tube studio devices, including emulation of physical phenomena like small positive inner feedback, tube softening of transients, compression, and generation of both odd and even harmonics.
VBE-1 VACUUM TUBE BASS ENHANCER

VBE-1 Vacuum Tube Bass Enhancer is vacuum tube analog bass enhancer. When standard equalization does not bring the massive fatness and warmth you're seeking, VBE-1 Vacuum Tube Bass Enhancer delivers real vacuum tube warmth, saturation, and drive to bass lines and kick drums.
VTC-1 VACUUM TUBE COMPRESSOR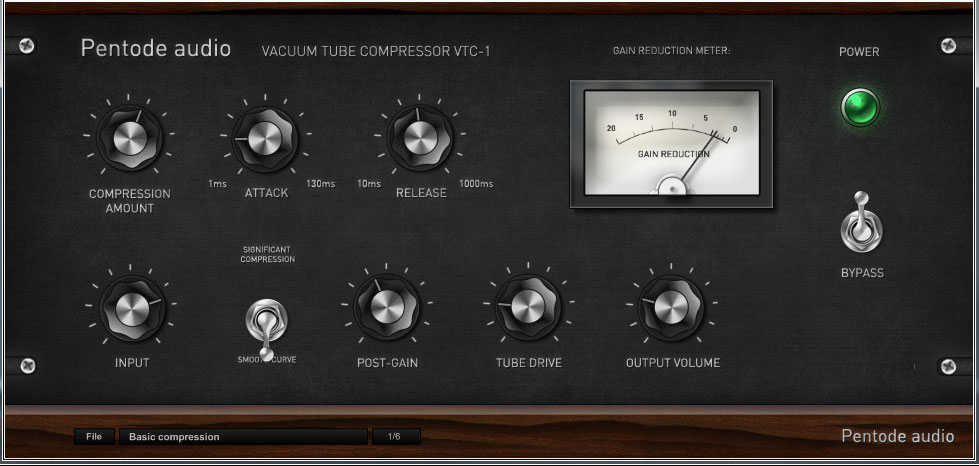 Pentode Audio VTC-1 Vacuum Tube Compressor is an analog-modeled virtual VST compressor with a warm analog and transparent sound. Compared to modern compressors, Pentode Audio VTC-1 operates differently: VTC-1 doesn't have a threshold knob; the amount of compression is set by increasing or decreasing input level as with old analog tube compressors.The Compression amount knob is similar to the ratio knob on modern compressors.
ZENER LIMITER LM-2Z

The Zener Limiter LM-2Z models rare and unique compressors utilizing a zener-diode as a gain-reduction element. Compared to classic digital brickwall limiters,the Zener Limiter LM-2z offers a more transparent, liquid, and airy sound with significantly less distortion and unwanted artifacts.
FUSION FIELD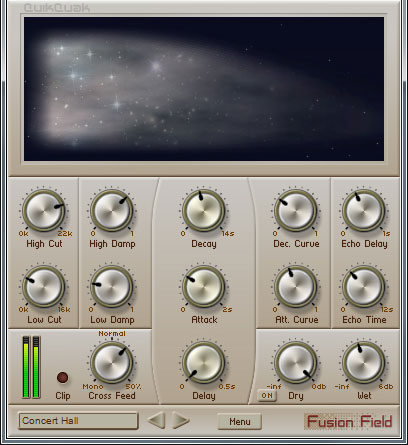 Fusion Field is a smooth diffusion reverb that sits beautifully in a mix. Designed to imitate complex, natural spaces, it's also very easy to use. Using an innovative "cloud" display to represent reverb spaces, Fusion Field offers powerful control with few controls to hamper your creativity.
STUDIO DEVIL VIRTUAL BASS AMP

Studio Devil Virtual Bass Amp is loaded with fantastic features for strikingly realistic emulations of legendary bass amps including a vacuum-tube preamp, power amp drive control, variable-knee limiter, seven-band EQ, two speaker cabinet emulations (plus D.I.), and numerous presets.
VTD-42 PSYCHEDELIC DELAY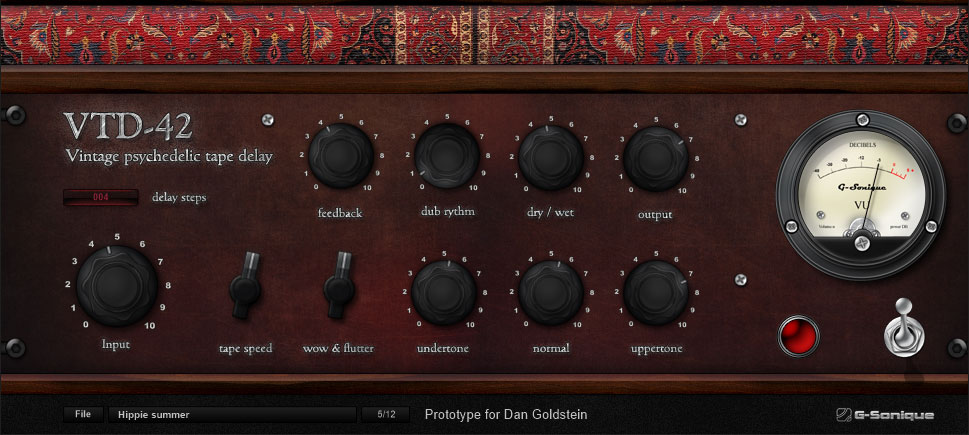 VTD-42 Psychedelic Delay replicates the warm, smooth, trippy textures of early tape-based delay systems without the hassle of cranky tape transports! With tape speed and wow and flutter controls, you'll get all the subtle (or not-so-subtle) pitch undulation and tonality that only a tape delay can deliver, plus the rhythmic complexity of multiple tape heads.