REGISTRATION‌‌
When Mixcraft is purchased, you'll automatically be registered. Once installed and launched for the first time, you'll see the Mixcraft login window where you'll need to enter your email address and Acoustica account password.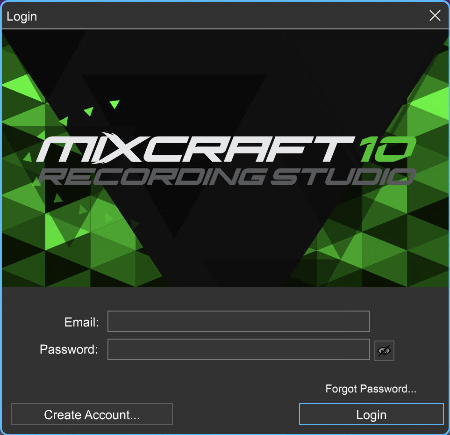 Your computer only needs to be online the first time you launch - after that you can unplug the internet, smash your modem with a ball peen hammer, discontinue service with your ISP provider, etc... Mixcraft will keep on tickin', we promise!
With that said, from time to time, Mixcraft will perform automatic updates, occasionally we might throw free sound and loop material your way, AND you'll have access to the awesome built-in Mixcraft store where you can easily make in-app purchases of virtual instruments, loop collections, and more, so we recommend keeping your computer online - we predict this internet thing is gonna be pretty popular! (See the Store Tab section for more information.)
MIXCRAFT RECORDING STUDIO DEMO
If you've downloaded and installed the Mixcraft Recording Studio demo, it will run in trial mode for 14 days, so you'll want to register as soon as possible for full functionality.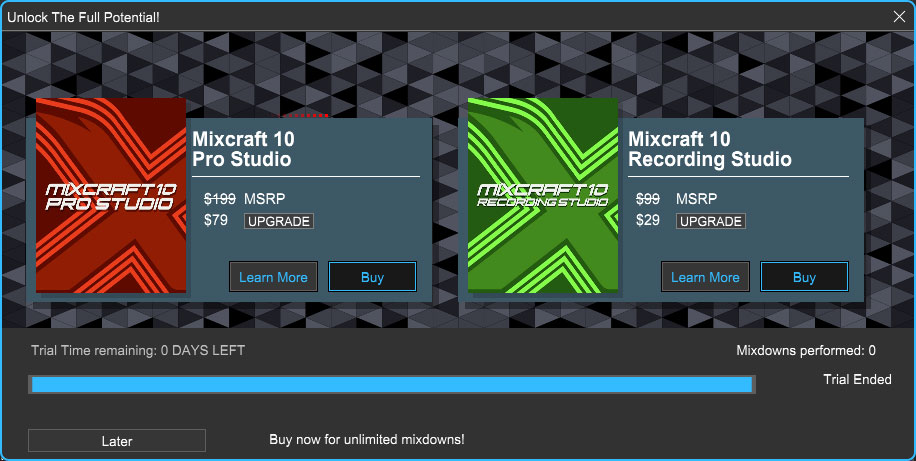 Following the 14-day trial period, you'll see the window above where you can click Buy to purchase full versions of Mixcraft 10 Recording Studio or Mixcraft 10 Pro Studio.

You can also click the Buy Now button at any time during the trial period to display the online purchase window and immediately upgrade Mixcraft to full functionality.
THANK YOU FOR CHOOSING MIXCRAFT 10!
Your support and patronage help us to continually improve Mixcraft. Enjoy! - The Acoustica Team